My platen – the flat part the lap rests upon – is not flat. This means as you cut a stone, the lap has high and low spots as it rotates which continually tap-tap-tap on the stone. I had a Topaz I was working on cleave which I attribute to the stone continuously being hit by the high spot. The faster you run the machine, the more this causes vibration and a jack-hammer effect on your stone and faceting head. Not what you want on a precision machine.
In machinist parlance, this hop is called "vertical runout". Using a 1/1000th inch dial indicator, I tested my platen near the edge, approximately 5.5″ from the center. An acceptable runout would be 0.001″ (1 thousandths of an inch) or less, and I know of several fellow faceters locally whose machines (not Omni) came from the factory with less than 0.001″ runout.
Originally I complained that my vertical runout was 0.0015″ (1-1/2 thousandths of an inch) which was slightly annoying. Foolish me.
My vertical runout is now 0.007″, almost FIVE TIMES WORSE than what it was before I sent it back to the factory. I repeat: This is *after* it came back from the factory for alignment.
Here are some photos demonstrating the problem: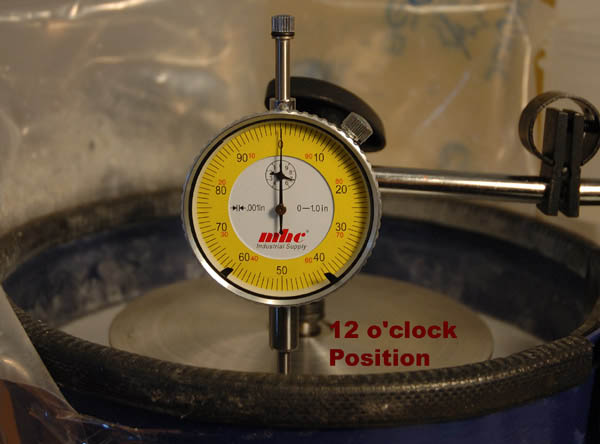 Dial Indicator zeroed at the high point.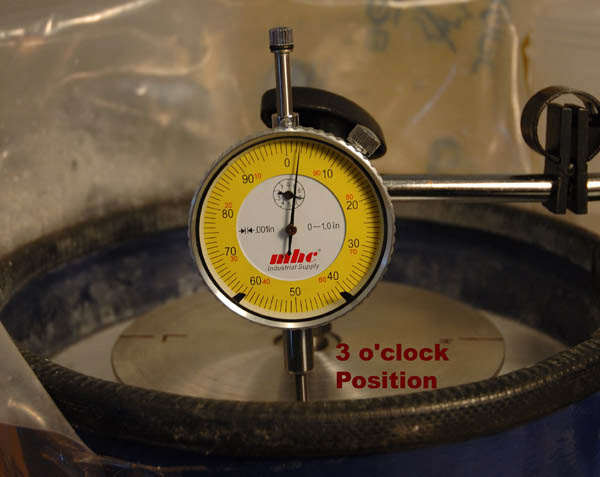 Turned 90 degrees clockwise… 0.0025″ difference…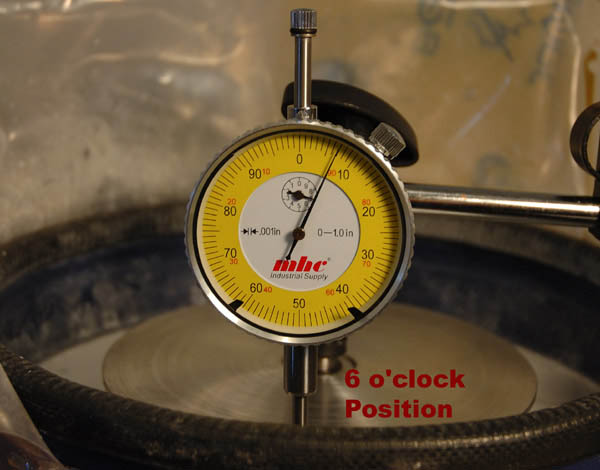 Low point on the Platen. Only out by 0.007″!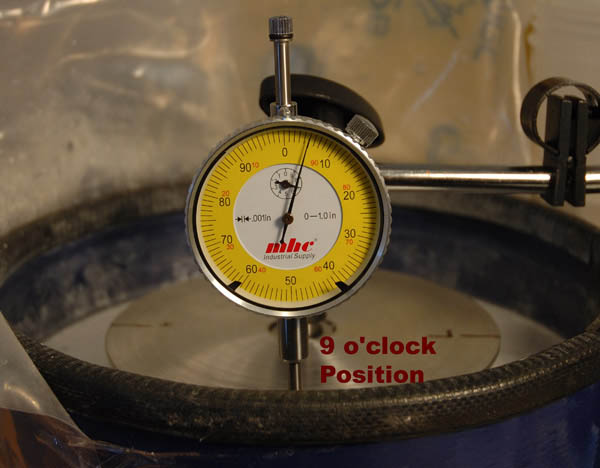 The Platen at 9 o'clock position. Out by 0.005″.
These measurements were taken at about 5.5″ from the center of the platen.
When I emailed the well-known owner of Faceters.com about this, here's the response (typos are his):
"You are kidding me right? .007? There is not a machine out there that will get any better. Facette and UT on brand new machines send them out with those numbers. Why dfon't you just go cut stones…?
Jeff"
I call BULLSHIT.
Quoting from UltraTec's page:
THE PLATEN – This critical subassembly (L) which holds the lap provides exceptional accuracy–.0003 inch maximum vertical runout.
For the record – UT publishes their platen runout here:
http://www.ultratec-facet.com/V2Base.htm
So Ultratech machines their platens (4″ diameter) to 23x tighter specs than my Omni. If any Facetron or Fac-ette owners care to chip in their factory-spec platen runout numbers I'd be happy to post them for comparison. I'm not interested in modded machines, only factory-shipped specifications.