To illustrate the Platen Tilt alignment problem I have a couple of photos. There is an angular slope to the platen with the low point at the control box side and high point at the user side.
With a dop resting on the lap and the head in a 40 degree position, there is 0.2 degrees of difference in the angle read-out from the 1 o'clock position (closest to the control box) to the 6 o'clock position (closest to the operator).
This is *after* I sent the machine back to the factory to have it serviced and was told by the owner "Upon reassemble, the master plate calibration was within (+-) .05 degrees, well within acceptable limits".
As you can see for yourself, this is not the case. This is not acceptable – what is means is that when you sweep the stone from edge to center, your stone will no longer contact the lap at the center. It also means that if you move the swing arm to another position, the angle of the lap to your facet changes, meaning that your meets will not meet and you will have to use a lot of cheating to get the facet back.
If you're trying to cut a large or rectangular stone, good luck.
In this picture the height has been adjusted so the stone is barely contacting the lap (a ceramic lap that I know is flat). The swing arm is in as close to the machine as possible without contacting the rubber around the splash pan edge.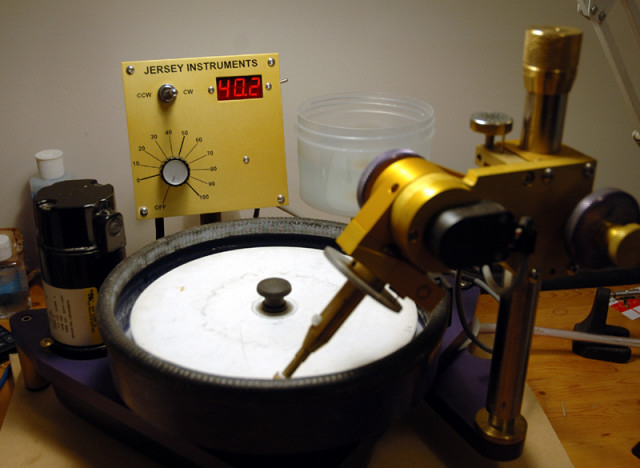 Here the stone is in full contact with the lap. All I did was move the swing arm out and bring the stone to the 6 o'clock position. No height or angle adjustments were made.
This complaint is a common refrain amongst those Omni owners I've had contact with. It's pretty much universal both in the nature of the complaint as well as the degree the alignment is out.