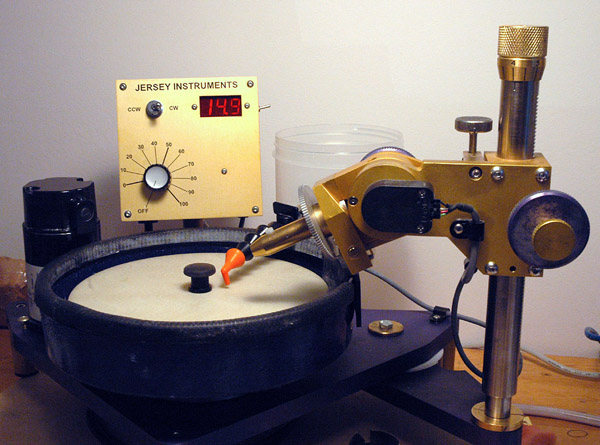 Welcome to the Omnifaceter.net Website
My Purpose:
This website was built to help other Omni-E Faceting Machine owners adjust their machines. I put these pages up to help other Omni owners understand why their machine is acting the way it is, and to assist them in resolving some of their problems.
This site may also assist owners of the Patriot faceting machine, which is largely a renamed version of the Omni. It does have some significant changes to some of the weaknesses pointed out here (better splash pan and drainage) but feedback from some owners (in 2013) indicates the fundamental issues with overall quality and workmanship remain the same. I have not personally set hands on a Patriot faceting machine but there is a good discussion about them on the Gemology Online forum at http://gemologyonline.com/Forum/phpBB2/viewtopic.php?f=8&t=18496&hilit=patriot+faceting. Personally, I think you can get better quality, value and support for your money elsewhere.
Omnifaceter.net Contents
The site contains snapshots of my Omni-E in various stages of disassembly with discussion of the problems I've been experiencing. Use the Categories menu on the right to view the posts in each section. Be sure to click on each post as there are a lot of photos which document the Omni and the issues discussed.
Why I Created the omnifaceter.net Site
I put these pages up after getting frustrated with ongoing alignment problems with my Omni-e faceting machine. After I sent it back to Jersey Instruments for factory alignment, it came back out of alignment with additional problems that were not present before.
After some distasteful back-and-forth over email with the well-known owner of Faceters.com whom I bought it from, I came to the conclusion I was no longer going to rely on vendor support or manufacturer warranty. I chose to disassemble my machine to determine for myself how I could resolve my issues.
Caveat:
Disassembling your machine will void your warranty. Adjusting the alignment of your machine as I have will probably also void your warranty. If you choose to do so, this is at your own discretion. In my case, I don't care. I no longer am willing to send my machine to the factory to have "servicing" done and prefer to do it myself. At least this way I am not paying to send it across the continent to get it back in worse shape than it was sent, and be billed for that work.
Educated is Forewarned
I want people who are thinking about purchasing the Omni-E Faceting Machine to know the limitations and weakness the Omni design suffers from. I also want people to know that the actual construction and machining of my Omni faceting machine is substandard and the cause of the issues I've been having.
If you are considering the purchase of a faceting machine, you are looking to spend between $1600 and $4500 on what needs to be a highly-accurate and precise piece of machinery. It needs to be designed and built with repeatability, durability, and adjustability in mind. Additionally you need to be confident that if something is not right, the vendor and manufacturer are both there to support you and fix the problem.
As Faceters.com writes in the review of the Omni, "The more a person knows about faceting machines the better decision they can make when deciding which machine to buy… Information is power."
I agree completely.
Disclaimer: These pages and photos are for information only. Any adjustments you do to your machine is at your own risk and responsibility, and may void your warranty.
I encourage people to sign in and leave their comments on the pages, especially if you are an Omni owner with some specific information.
Please sign up using your REAL first name and a live email address.
Objective observations and experiences with the Omni and vendors/manufacturer are welcome. Libelous and malicious posts will be deleted, as will any personal attacks.
If you want to see how I eventually resolved *most* (not all) of the issues, see my post on Resolving the Swing Arm Alignment Problem. It is what I'm using to cut my stones now.
All text and photos Copyright (c) 2009 Allan Aoyama. No part of this website may be copied or distributed without the expressed permission of the site owner.