Mike at AllDops.com also made me a custom 45 degree angle adapter for cutting and polishing the table on stones. You can read about the issues with the original Omni-e angle dop supplied by Jersey Instruments on this post 45 Degree Angle Adapter Defect from David Hudson.
I actually have had and used this new 45 degree angle adapter for at least a couple of months now. It's a solid and extremely well-made piece, weighing in at about 4 oz/120 grams. It is machined from a single piece of brass, which means there is no way it can slip out of alignment.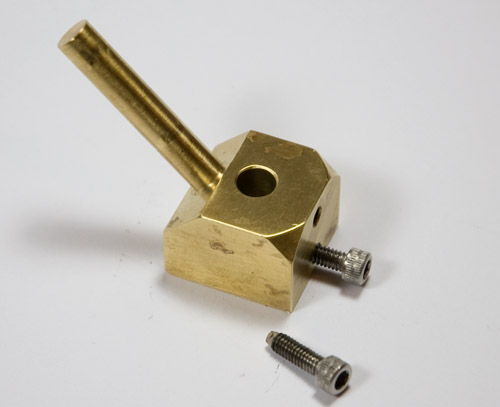 In the photos I've removed the top dop-holding screw to show the nylon tip – a very well-thought part of this adapter's design. It prevents the holding screws from scarring the soft brass of the dops.
The 45 degree angle adapter is heavy. Along with the nylon-tipped screws this helps reduce the amount of squealing tha tthe stones make when grinding and polishing the table. The squeal-factor with this new table adapter is almost zero so far – with the original Omni-e table adapter I often would hold the stone or dop to try and dampen down the noise. I also took to wearing earplugs.
The final additional benefit of this adapter is that you can use it to validate the calibration of your Omni-e faceting machine's angle read-out. Because it has a flat bottom, you can insert it into the quill and then lower the faceting head until the angle adapter is sitting flush on the lap. Your angle read-out should be 45 degrees; if not, you know it needs adjustment.
While this particular 45 degree angle adapter is machined specifically for the Omni-e's 0.300″ dops, Mike can create one for other faceting machines if you ask.
If you're interested in obtaining one of these 45 degree angle adapters, please contact Mike directly through his website at http://www.alldops.com.
For the record, I have no business relationship with Mike other than being a satisfied customer.