I've been trying to find some time to put up a full post on this, but I just haven't been able to.
A couple of weeks ago I finally ran to the Dollar Store and picked up a bunch of plastic things, then to the medical shop to pick up some exercise elastic. Add in a bit of silicon sealer and the barrel of a pen and a few staples and… voila! A new larger splash pan that can hold the whole 16 oz of water in the drip tank plus more. Higher sides so it doesn't spray the walls as much.
And — there's no chance of the bearings ever touching water! Imagine that!
Here's a pic of the partially-completed splash pan. Note that this slides over my smaller Platen and the collar prevents any water from getting hear the Spindle Housing and Bearings.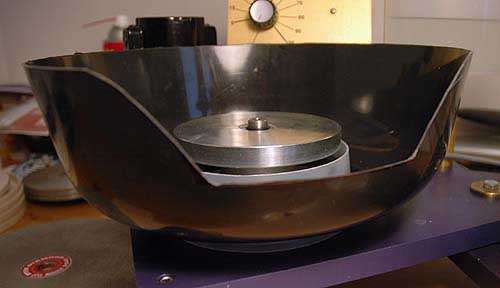 So, until I get some time to write up the whole step-by-step process of making this thing, here are a couple shots of what it looks like.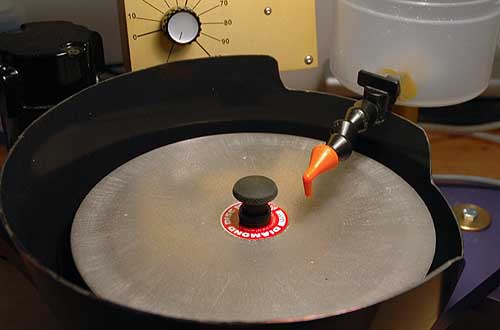 Here's a pic with the girdle cutout splash shield in place. Note the rubber top.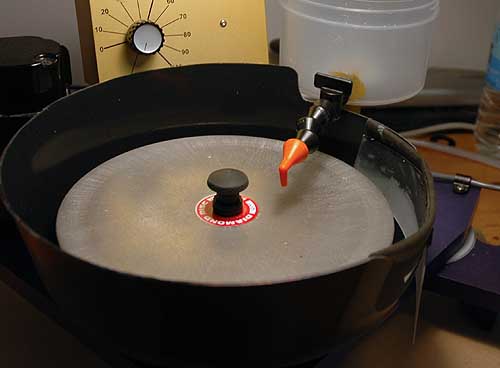 And here's a close-up of how the Girdle Shield can slide down so you can cut a bit higher-angle on the laps without the Omni Faceting Head hitting the edge of the Splash Pan. The exercise rubber is to provide a nice soft lip that will conform to the shape of the Faceting Head to allow it to still stop a bit of spray and give a gentle warning when you're getting close to hitting the pan.